Nampa-Tsi Lodge History:

Listing of Lodge Officers:

Nampa-Tsi Lodge:

Current Lodge News:
Chapter Web Pages

Oglala Chapter Page:

Sichangu Chapter Page:

Miniconjou Chapter Page:

Listing of Chapter Chiefs:

J.C. Feger's Page:
Region Web Pages

Central Region Page:

Central Region E-Mail list:

Western Region Page:
Section Web Page

Section C-6 Page:
National OA Web Pages

Official OA Website:

Listing of National Officers:

NLS information:

OATC information: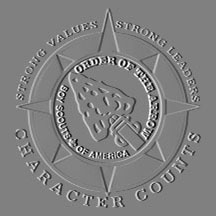 Nick's
Notes
Hello, and thanks for stopping by. I hope you like the new version of this web page, including some really great graphics I've found on the Web. This is the web-home of the Section Vice Chief. Here is where I'll post important lodge happenings and links to sites I deem important, interesting, or necessary.

This page has been visited
times.
Sign My Guestbook
View My Guestbook

Members of OATC-808 at NOAC's Trail Crew Reunion August 1998